Single point mooring (SPM) is a floating buoy/jetty anchored offshore to allow handling of liquid cargo such as petroleum products for tanker ships. SPM is mainly used in areas where a dedicated facility for loading or unloading liquid cargo is not available.
Single point mooring (SPM) serves as a link between the shore-facilities and the tankers for loading or off-loading liquid and gas cargo. Some of the major benefits of using SPM are:
1.Ability to handle extra large vessels
2.Doesn't require ships to come to the port and thus save fuel and time
3.Ships with high drafts can be moored easily
4.Large quality of cargo can be easily handled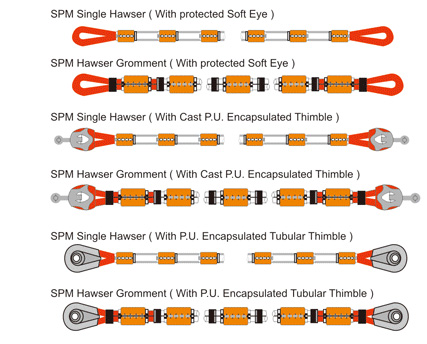 Main performance:

◎ Material: Polyamide (nylon 66).
◎ Construction: load-bearing cores with a protective
cover of polyamide.
◎ Application: marine fishing.
◎ Colour of rope: White with green marker.
◎ Approx. Spec. Density 1.14 non floating.
◎ Melting Point: 215℃.
◎ Abrasion Resistance: Excellent.
◎ U.V.resistance: Excellent
◎ Temperature resistance: 80℃ max continuous.
◎ Chemical resistance: Reasonable; acids, oxidisers &
solvents will affect nylon.
◎ Dry & wet conditions: Wet strength ± 5% lower than
dry strength.
◎ SPM Polyamide hawsers are manufactured in accordance
with OCIMF 2000 regulations.
◎ Weight : ±5% Tolerance.